IT Consultants Professional Indemnity Insurance
Quote and buy online - cover from all the big names...
IT Consultants Professional Indemnity Insurance is for Computer Consultants, Website Professionals, Developers etc. No matter what sector of the IT industry you operate in you need to be protected by Professional Indemnity Insurance.
Professional Indemnity Insurance Policy Highlights
How do Professional Indemnity insurers view the IT industry?
Professional indemnity insurance cover is necessary for both hardware and software consultants and it should be borne in mind that, because of the reliance many firms place on IT systems, the potential losses incurred by businesses may far exceed the cost of the IT project itself, and limits of indemnity need to be set accordingly. IT companies and the services they offer are not easy to categorise, largely due to the wide range of business and industrial environments in which IT professionals work.
Broadly speaking, work carried out by IT companies falls into one or more of the following areas:
Packaged hardware/software provision
Development of bespoke solutions
Consultancy/project management
Outsourcing
IT recruitment
Internet service providers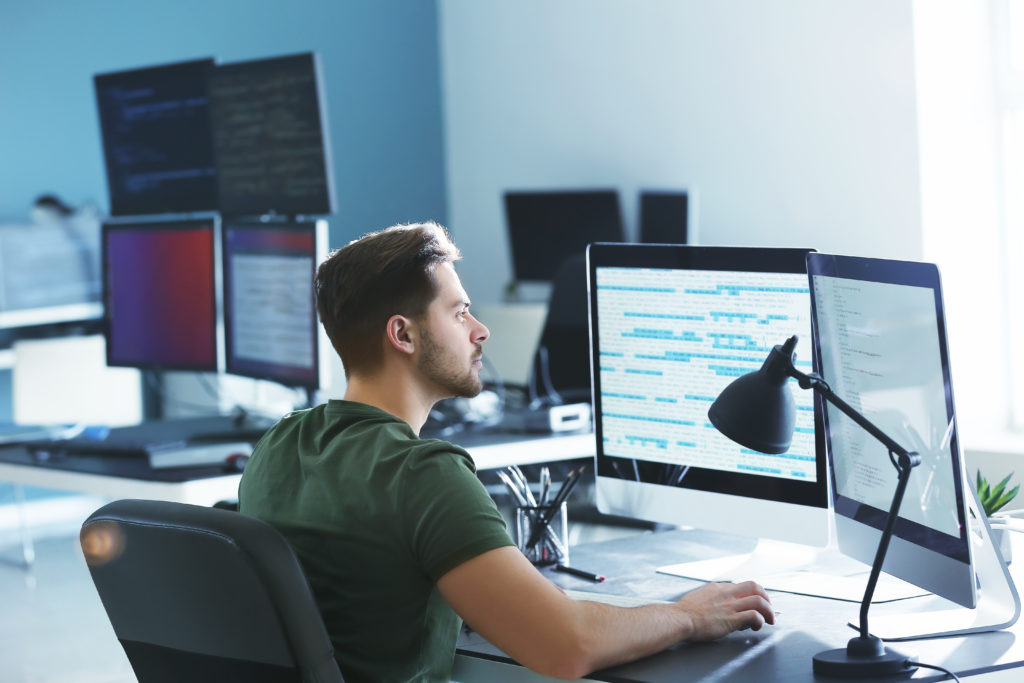 It is crucial that there is a full understanding of the extent of your business activities. A 'catch-all' description of IT Consultant for example is unlikely to fully describe the exact nature of a business.
Other insurers persist in the use of the general 'IT Consultants' description. Whilst this 'catch all' approach simplifies matters it may give the impression that the insurance is not tailored to the insured's specific needs. The IT industry is arguably the most global, and potential US exposure must be considered. It is possible to arrange US cover but restrictive terms will apply and the price will go up. Checks should be made as to whether the insured needs cover for bodily injury or property damage arising out of the their negligence. This could be important if the insured's systems are used in mechanical or medical environments.
Some insurers have identified the following disciplines:
Sales of own brand
Distribution of other brands
Installation
Maintenance
Shrink wrapped/off the shelf software
Customisable software
Installation including configuration (no code changes).
Customisation (including code changes).
Developing bespoke applications.
Maintenance.
Consultancy.
Contract staff.
Facilities management.
Training.
Millennium work.
Internet services (excluding web hosting).
Web hosting.
What do Professional Indemnity Insurers look for?
The central question is what would be the immediate financial and other consequences if data is incorrect or a system fails or becomes unavailable for any period of time. A lot depends on the precise function of the software and what commercial application it is being used for.
The main areas that give rise to litigation against IT companies are:
Failure of the software/system to do the job for which it was intended (fitness for purpose).
Failure to deliver the system on time.
Failure to deliver the system to budget.
These can give rise to three types of claims:
Client withholds or claims for return of the purchase price/fees paid
Direct financial loss arising from the negligence of the IT Company
Consequential loss
Insurers' first line of defence is the written contract between the insured and their client. Insurers will often ask to see the insured's standard terms and conditions. If smaller IT firms are asked to sign onerous contracts with larger customers it is important for the insured to understand the extent of cover offered to meet these contractual liabilities. Whilst cover for the first two types of claims mentioned above are available in the market, insurers expect that consequential losses will be excluded by the insured in their contract terms and conditions, or at least limited.
The prime underwriting criteria is of course what kinds of systems an IT professional is involved in. Areas that must always be disclosed to insurers include:
Systems in the financial sector
Games development
Trading systems
Process control systems
ASPs (Application Services Provider) or ISPs (Internet Services Providers)
Managed Service Providers
Enterprise Resource Planners
Large contract sizes
Mission and safety critical systems
Cases with US exposure
SNW (design consultants) bought a graphic design system (hardware, operating systems, applications software and peripherals) from Barco. Barco had an established system (Aesthedes 1) which they demonstrated to SNW. But by the time SNW were to be supplied, Barco had brought out a new version, Aesthedes 2, which they supplied to SNW. There was no written contract or warranty document. The system was commercially unusable and over a long period of time Barco tried to fix the problems and failed to do so.
SNW rejected the system and claimed for misrepresentation and breach of contract (implied terms of merchantable quality and fitness for purpose). Many of the defects were software related but the judge treated the system as a whole (software and hardware) as one 'product'. Costs were settled at £450,000 on the grounds of misrepresentation and breaches of statutory implied terms.
St Albans entered into a contract with ICL for the provision of a system to run the poll tax administration. There was an admitted error in the software, which resulted in the number of poll tax payers being overstated. This led St. Albans to set its poll tax rate too low and ended up £3,000,000 out of pocket. St Albans sued for breach of contract, relying on the express terms in the contract as well as on implied terms under the Sale of Goods Act 1979 and for negligent misstatement by one of ICL's employees that it was safe to take population figures direct from a screen (an on-line output). ICL argued that St Albans should have realised there was something wrong (a report they tried to print had produced a line of zeros), that no loss had been suffered because St Albans could make it up for the following year and that liability under the contract was limited to £100,000.
High court decision:
The error in the software was breach of contract.
ICL's statement that St Albans could safely take the figures from the screen was negligent, therefore breach of contract.
Although software was considered 'goods' in this case, it was not necessary to decide whether or not software was 'goods' for the purpose of the Sale of Goods Act 1979, as ICL was in breach of the express terms of the contract.
St Albans had lost money and had a duty to recover it for the benefit of taxpayers. The fact that it had recouped its loss by increasing the poll tax charge the following year was irrelevant.
Negotiations prior to the contract had left ICL's terms largely untouched so St Albans was treated as having contracted on ICL's standard terms. ICL's terms were subject to the requirement of reasonableness. The £100,000 limited clause was unreasonable and unenforceable in view of the facts that: ICL was a substantial company, they were insured for product liability to an aggregate sum of £50,000,000, ICL was one of the few companies that could meet St Albans requirements and they had not justified the figure of £100,000.
Salvage entered into two contracts with CAP for the design and development and supply of software. Two years later, the software was incomplete and contained numerous errors. Salvage terminated the second contract (the first was over), rejected the software and dismissed CAP. Salvage abandoned the software altogether and engaged another party to develop a fresh solution.
Salvage brought proceedings for breach of contract, claiming repayment of the contract price (about £300,000) and damages for wasted expenditure. CAP relied on a clause limiting its liability to £25,000 in respect of each contract. Salvage claimed the terms were unreasonable and therefore unenforceable under the Unfair Contract Terms Act 1977. Total damages settled at just under £663,000 and Salvage could recover for its wasted expenditure on the project, payments for use of computer bureau facilities and testing and wasted management time and stationery. Salvage could not recover for lost profits.
This case is a good example of what happens if a supplier tries to rely on a limitation of liability which is so low as to be out of proportion to the contract price or any potential losses under the contract. It also highlights the fact that in order to rely on a limitation of liability a supplier is likely to have to find an objective justification for the limitation applied.
IT Professional Indemnity Proposal Form
We understand that your requirements may not be as simple as the questions asked on our online quote and buy system, therefore we ask that you complete our proposal form and send a completed copy to [email protected]. A member of our team will be in touch with you shortly.