If you are an architect, then you know that your work is important. It's crucial that you have the right insurance in case something goes wrong and a client sues you. In this blog post, we will discuss professional indemnity insurance for architects and what you need to know about it.
We'll cover topics such as what it covers, how much coverage you need, and how to get a policy. So if you're looking for some peace of mind when it comes to your architectural work, keep reading!
There are several factors however that you can consider to help you decide what the most appropriate level of cover is for your business. Some of these factors include
the size of your business,
the type of work you do, and the number of clients you have.
contractual obligations – check whether your contracts require you to have a certain level of cover
industry body requirements – eg check with the ARB or RIBA
the type of work that you are involved in – eg, the total contract value of the project (not just the aspect you are working on)
the type of contract (is it simple residential or higher risk commercial), and,
the expected cost to rectify any mistakes you might make.
We've previously written about the types of things you should take into account when deciding on the level of cover you need. Please see our blog post – How Do You Work Out Your Professional Indemnity Level Of Cover?
Insurers will look at the activities of your business when calculating premiums.  The following are the usual aspects that they will assess:
the type of work that you do
where you carry out that work – eg do you design residential projects or are you involved in large-scale commercial projects?
have you had any prior Professional indemnity claims?
The size of your business affects the price of your insurance. Your premium will be based on how much money you have made from fees in the last year. Some insurers may ask for information about how much money you have made from fees in the last 5 years.
the level of cover that you require – eg £500,000 or £5,000,000 or levels in between or above!
The cost of your policy will also be affected by the excess that you are prepared to pay. This is the amount of money you would have to pay yourself in the event of a claim before the insurer starts to contribute. Some Insurers may offer a lower premium in return for you accepting a higher excess.
As you can see, there are a number of factors that affect the cost of professional indemnity insurance for architects. However, with the right broker, it is possible to find a policy that fits your budget and provides the coverage you need. So don't hesitate to contact us today if you have any questions about professional indemnity insurance.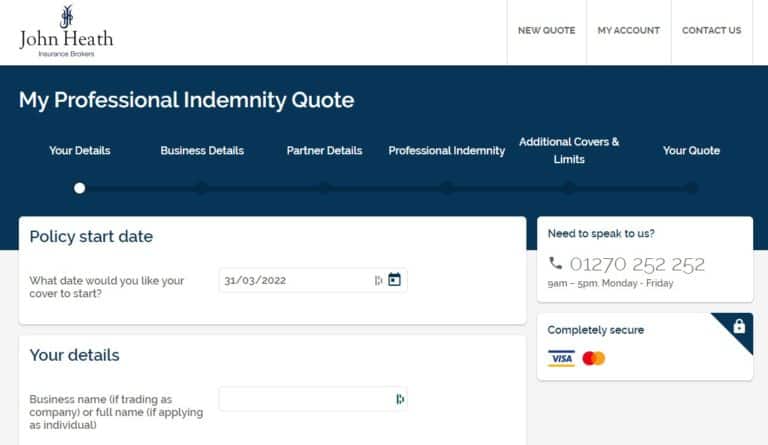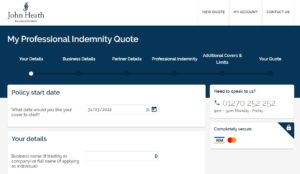 Our online quote system is quick and easy to use and you can get an architects professional indemnity quote immediately to protect your business today!
Need more help?
JohnHeath.com, is dedicated to helping architects discover the best insurance coverage. We specialise in professional indemnity insurance and can assist you in obtaining the policy that is appropriate for your needs.
You can read more about architects professional indemnity insurance on our dedicated architects page.
We hope this blog post has been helpful and informative. If you have any questions about professional indemnity insurance, please don't hesitate to contact us. We would be happy to help!