Our guess is that PC Kerry Jones didn't expect the kind of media furore that she encountered after filing her claim for compensation recently.
Falling over a garage kerb whilst on duty, she later submitted a claim for damages in respect of personal injuries suffered. The case was seized upon by the media and generated a frenzy of contrasting views upon the subject. Whilst she undoubtedly suffered an injury, was it morally right for a serving police officer to submit a claim against the business owner that she was there to assist? We'll leave you to ponder on that.
It has since emerged that she is not alone. In fact, in the last 4 years, almost 8,000 successful claims have been submitted by Police officers. Note 'successful', meaning that these claims have been settled, not merely 'submitted'. In cases like PC Jones' Insurers are settling these claims under the Public Liability section of the business owners commercial insurance policy.
Worryingly for Insurers is the fact that the cost of claims from Police Officers is on the increase, although the number is declining.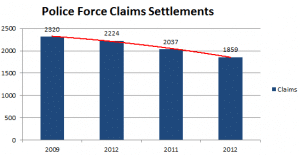 In 2009, claims totalling £14m were settled and by 2012 this figure had increased to £19.8m an increase of over 41%. The trend isn't restricted to just the Police. The GMB, trade union for Ambulance staff representative (NHS officer for London) Tony Hughes has commented;
There is definitely an increasing trend in compensation claims. It is a general trend because of the pressure to do more for less. People are rushing around and having more trips and falls.
These claims hit insurers at a time when they are seeing large and ever increasing volumes of liability claims generally.
Jackson Reforms Might Help
The Legal Aid, Sentencing and Punishment of Offenders Act 2012 (LASPO) came into effect on 1st April (no it's not a joke). The legislation bans the recovery of success fees and after the event insurance from the losing party. Lawyers success fees in personal injury cases are capped at 25% of the damages awarded too.
A spokesman for Aviva, a significant insurer within the Public Liability claims arena has commented on the reforms:
The Jackson Reforms are an important set of measures that will help to reduce the excessive claims costs that are responsible for inflating premiums.

The expansion of the Ministry of Justice Portal [public liability claims are now within the scope of the Claims Portal – the new name for the Road Traffic Accident Portal] to include employers' and public liability claims to£25,000 will make such claims easier to deal with while helping to control the overall costs of these claims.

Building on the Jackson reforms,we would encourage the courts to adopt a stricter burden of proof on public liability claims to weed out spurious claims.